"The Musk"

 Diamond Hole Saw
The Musk core bit is specially engineered for the purpose of high-speed drilling and a long lifespan. The vacuum brazed diamond side protection offers a smooth and clean cut with minimal chipping. 
Calidad high-speed dry/wet diamond core bits are the most effective solution for drilling holes in kitchen countertops, bath /shower walls for faucets, handles, soap dispensers, and others. They easily tackle tough jobs on dense materials like tile, engineered stone, granite, and other surfaces. High-grade diamonds are brazed firmly on the tool, so it bores through hard substances and stays on the intended cutline without the need for a pilot drill bit.  

Vacuum Brazed Diamond Technology:  High strength diamonds for faster tile drilling; great for drilling clean holes in hard materials 
Hole Dimension: 35 mm
Average Life Span: 50-60 holes 

Details: Diamond coating enhances the drilling speed; Depth marks are useful for the precise project; Including portable plastic storage cases for convenient use and storage.
Start Tip: Exact start tip for a minimal bit of walking 
Pressure: Ideal for relieving pressure on certain cuts 
Dry Drilling Design: Diamond Drill Bit integrated with wax lubricant inside which melts while dry drilling and cools the cutting surface; Water can be used as additional cooling to prolong the life of the bit.
Worry-Free & Assistance: If you encounter any problems in using the products, please feel free to contact us for satisfactory customer service.
On Tiles, Granite, Marble, Quartzite, Quartz, Engineered Stone, Concrete Countertops, And All Other Natural Stone.
Vacuum brazed, Micro Diamonds, Fast Cutting and Chip Free
Angle Grinder, Power Drill (with 5/8-11" adapter drill adapter)
Customer Reviews
Filter Reviews:
price
grinder
porcelain
sizes
hole
threads
addition
size hole
shower head
spout
Eric C.
I recommend this product
07/18/2022
Awesome tools
Ordering was easy, shipping was on time. Tools was as good as i expected it to be. Very pleased that they was finally in stock! Thnaks.
George N.

United States
I recommend this product
04/07/2022
Great hole saw
Good price and good quality
Steve M.

United States
I recommend this product
03/31/2022
Hole saw
So far a good addition, threads on my grinder easily
Mark R.

United States
I recommend this product
02/20/2022
Top Shelf
Fits perfectly on the grinder, works great for hard porcelain and soft ceramics. Makes the perfect size hole for your shower head and tub spout. I keep it on me at all times, it's already saved the day many times! Great little hole saw for an unbelievable price! Get it while it's still in stock!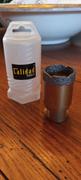 Mike W.

United States
I recommend this product
11/03/2021
Holy ****
It made a hole!! How about some different sizes?? Maybe a kit in the future??